Wednesday was my final ever MOPS (Mother's of Preschoolers) meeting.  I was the coordinator and I wanted to give the ladies of my fabulous leadership team a present to thank them for all that they did.  Trouble is that the leadership team includes 24 women! (14 Steering and 8 group leaders) So what can you do that is inexpensive but special?  Well, I found a cute little trinket that went along with the love theme.  But I also made them each a puzzle out of crafts sticks and a picture of their children.  (This year's theme was also games, so I thought a puzzle fit in well!)  It was so easy, and I got a lot of compliments, so I thought I'd share how to do it.  (I originally saw this somewhere online, so this is not an original idea.  I just don't remember where I saw it.)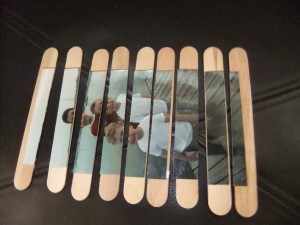 Step 1: Select a photo and using a photo safe glue stick, glue it onto craft sticks.  I only had the fat ones, but I think the thinner ones would be good.  It would make the puzzle more challenging.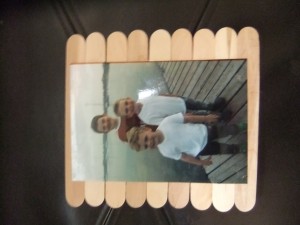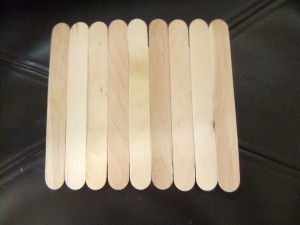 Step 2: After the glue dries, using an exacto knife and a ruler or a paper-cutter, cut the craft sticks apart.  (I used a cutting board)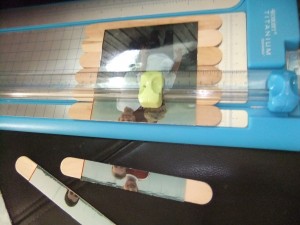 Step 3: "Paint" Modge Podge onto each stick and let dry thoroughly.  This will strengthen the photo and help it to last longer.  (This step is optional, but if you're going to let kids play with the puzzle, I recommend it!)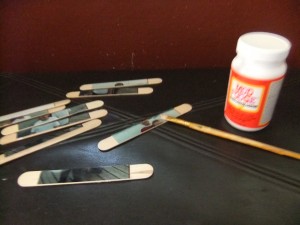 Step 4:  Play with the puzzle!  Here's my 5 year old putting it together.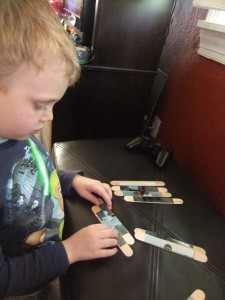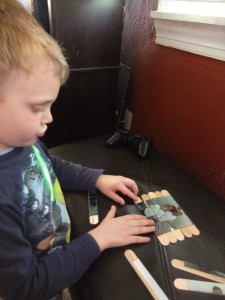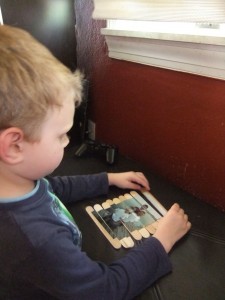 In the wedding section at Michael's Crafts I found little organza draw string pouches that worked perfectly for stashing the pieces away in.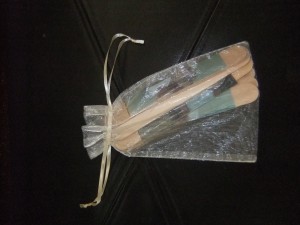 And here are the gifts lined up at ready to give away at MOPS.  (I wish I could have done so much more for those amazing women!)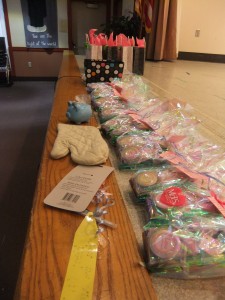 Happy Puzzling!
♥Becki