Tomorrow is the last day of school.  I can't believe it's here already!  My youngest had his kindergarten graduation ceremony yesterday and my oldest had his 5th grade ceremony today.  Looking back on this school year, I realize I have so much to be thankful for…
My youngest had a great first year of school – in fact he loves it!  He is now a reader, reading all the time (even over my shoulder, so I guess it's a good thing I'm not into that shades of gray series!!!).  He sings his school songs all the time.  He loves math.  He's made friends and is much more outgoing in social settings.
My finishing second grader has gone from reading below grade level to reading almost 2 grade levels above!  He has shined academically for the first time this year, even earning the opportunity to represent his class in the Math Bee.  He has become much more confident.  Like my youngest, he loves school, has made more friends and has become much more outgoing in social settings.
My soon to be middle schooler has thrived this year.  He has gone from hating school to actually saying he wants to be a teacher.  His behavior has improved tremendously.  He's getting along better with the other students.  He's learning how to cope with his anxieties.  He's learning to be more flexible.  He's understanding what it means to be autistic and how to function in the classroom and other social settings.
I attribute all of these things to their teachers.  Their teachers have loved them, have encouraged them, and have supported them.  In addition, their teachers have encouraged me, supported me, and really partnered with me as we help my boys grow.  And so at the year's end, I like to give them something to let them know just how much I appreciate them.
Unfortunately, this year, funds are really tight and I just didn't have the money to buy an adequate gift or gift card for all 3 of their main teachers, in addition to my oldest son's emotional (autistic) support teacher, para-professional, guidance counselor, and art teacher (who has been amazing with him).  So I hit Pinterest and various blogs for inspiration.  And here's what I created, adapted from what I found: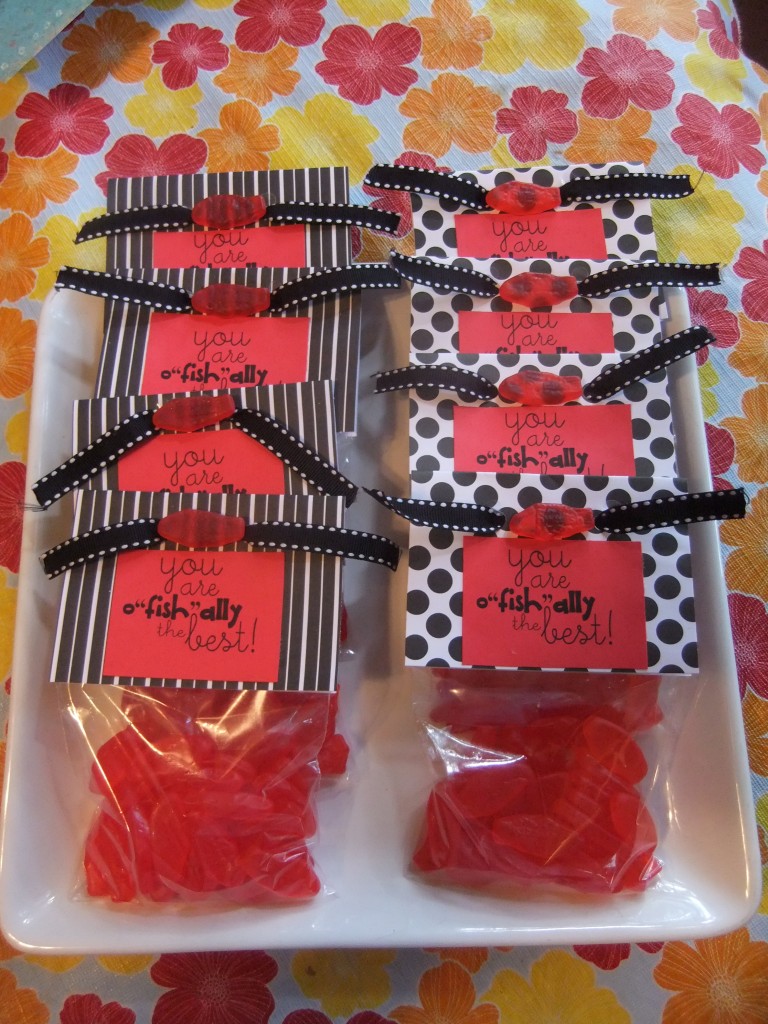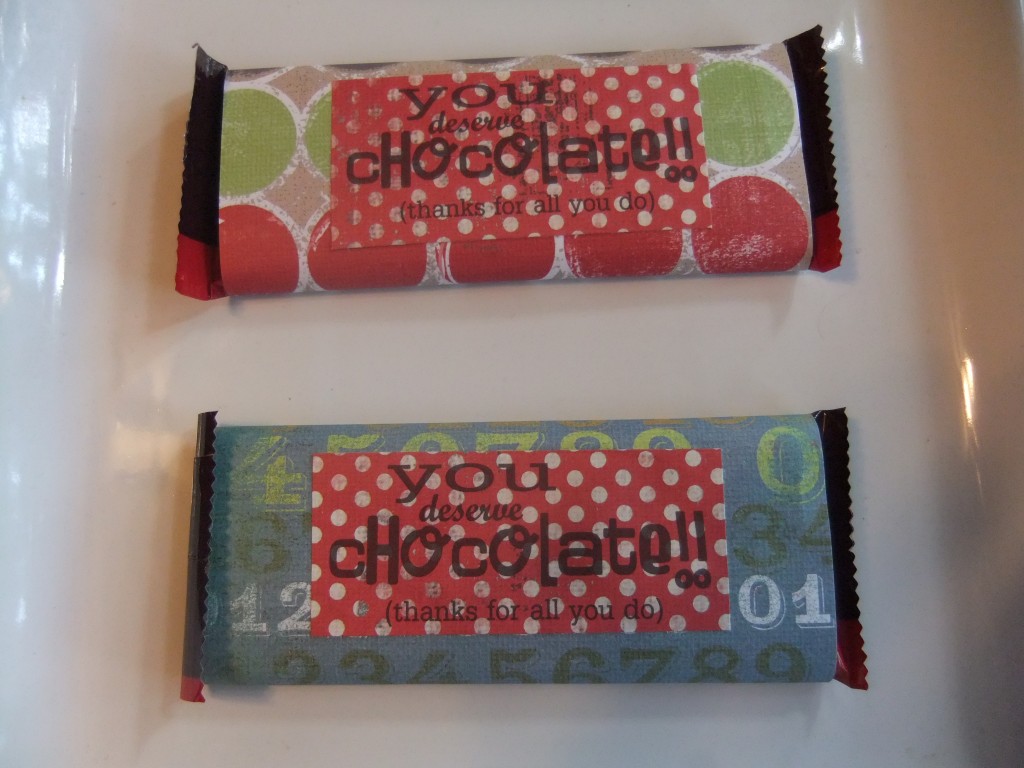 Thank you to Tip Junkie for leading me to the printables for these! And a huge thank you to eighteen25 for creating and providing the printables and ideas!
Well, I'm assuming most of you already have this year's teacher gifts under control… so maybe these are for another year.  Or, what I love about these, is that they really would work as an appreciation gift for anyone… and I'm sure you have lots of people in your life that you are thankful for!
So here's what I did…
First for the Fish Candy Gram… I bought swedish fish from the bulk section (after comparing the price per pound in the prepackaged bags) and filled treat bags with them.
Using my paper-cutter, I cut scrapbook paper to 4×6 and folded it in half.  I then put it over the top of the treat bag.  Next I used a hole punch to punch two holes through both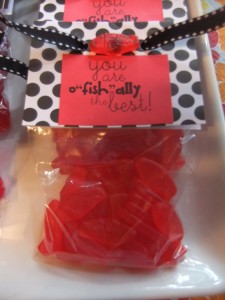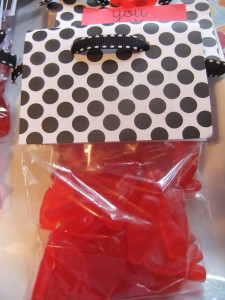 sides of the scrapbook paper and the treat bag.  I threaded some ribbon through the holes without tying it.  Next I glued a swedish fish in between the 2 punched holes.
After that, I took the "You are o"fish"ally the best" saying that I had printed onto red card stock and trimmed it down and glued it on.  I was done, but then decided to write a note on the inside of the scrapbook paper.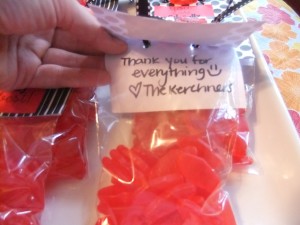 For the chocolate bar… I used eighteen25's printable again, but I printed it on scrapbook paper.  (It was 12×12, but I trimmed it to 8.5×12 to send it through my printer.)  After printing it, I trimmed it down.  Next it was time to wrap the candy bar.  To save money, I bought a 6 pack of chocolate bars.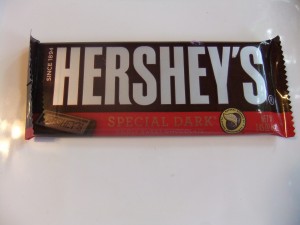 These didn't have the outer wrapper and the inner foil wrapper, so I just covered over the wrapper.  To do it, I trimmed the scrap-book paper, wrapped around, and glued it shut.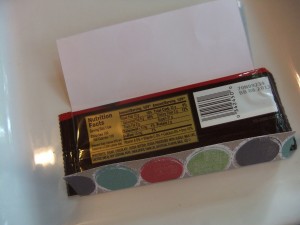 Lastly, I glued the "You deserve chocolate!!  Thank you for all you do." printable onto the front.  I left the back blank.
Easy peasy… Cute and fun.  But those alone, probably wouldn't express how thankful we are, so we wrote cards for them as well.
♥Becki, thankful mom