It was 4:00 Saturday afternoon.  I was packing up the Chick-fil-A truck at the end of a community day.  I had been working since 7 am and still had to go back to the store to unload before I could finally head home.  My phone rang, I glanced at the caller ID.  I saw that it was my mom.  Normally, I'd ignore it and call her later since I was working.  But she had my youngest and knew I was working, so I figured I should answer it.
She called to tell me that my son was playing in the living room and fell and hit his chin on the coffee table.  She thought he might need stitches.  Thankfully she had called an urgent care center and discovered that they would see him without Jeff or I present.  I agreed they should take him there.
When I got back to Chick-fil-A.  I got the phone call from the receptionist asking me to fax over my insurance card and to give verbal consent to treat.  I then had to talk to the nurse.  Finally after a little bit while I was driving home, the doctor called to tell me that he was going to need 3 stitches and that she was going to have to give a shot to numb the chin first.  I gave my consent and the doctor handed the phone back to my mom.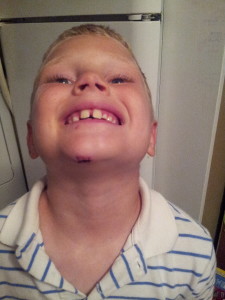 Unknowingly, my mom didn't hang up the phone, so I could hear what was going on.  As I was driving, I listened.  And the tears came.  Tears of exhaustion.  Tears of guilt.  I should be with my baby when a doctor is stitching him up.  It was only 3 stitches, so really not a big deal, but still, I should be there.
It might not have hit me so hard, except that these past few weeks, my job has taken me away from my family more than I wanted.  I missed soccer games.  I had to work some nights after the kids were in school all day.  After being a stay-at-home mom for 12 years, it's difficult to now miss things.
I LOVE, LOVE, LOVE my job (Marketing Director for Chick-fil-A).  The job description describes me completely.  I am thankful for the extra income, the great people to work with, and the overall flexibility of the position.  I am proud to be work for this company.  My kids think I'm a rock star for working there.  (Well, maybe that's overstating things, but they think it's cool.)  Have I mentioned that I love my job?
But since school has started, it has been difficult to maintain the balance and give my family the attention they deserve.  So on Saturday into Sunday my heart was heavy with the guilt.  I felt as if I couldn't continue with my job and be a mom to my boys.  But I didn't feel right quitting my job either.  And as I typed this (on Sunday night) I wasn't sure what to write because I had no peace only stress, anxiety, and guilt.
But then I heard that voice of God whispering to me a verse I clung to while my children were younger.
He tends his flock like a shepherd:
He gathers the lambs in his arms
and carries them close to his heart;
he gently leads those that have young. (Isaiah 40:11)
I would cling to the idea that God was carrying me close to his heart and that he was gently leading me (those that have young).  Being a mom, we are constantly filled with uncertainty.  And it starts from pregnancy:
Do you do the pregnancy screening tests?
Natural childbirth or epidural?
Circumcision or not?
Breast or bottle?
Co-sleep or cry it out?
Paci, thumb, or nothing?
To spank or not to spank?
Work or stay home?
Public school, private school, or home school?
Oreos or something more natural?
Can they go to  a friend's house without you?
Are video games OK?
How much TV is too much TV?
Should they be in more or less organized activities?
Is that person safe to have as a babysitter?
Do I let them get away with ____ or do I discipline?
Through all that uncertainty, God promises to gently lead us, even though that leading may be different for each of us.  And as I look back these past 13 years, I see his leading throughout my mothering.
He also promises that if we seek wisdom, he will give it to us.  So now as I type, I'm starting to feel my burden lifting.  I am beginning to trust God that he chose me to be the mom for my boys.  That he loves me and my boys like crazy.  And that he wants to lead me now in my uncertainty and give me wisdom in how to be their mom.
And so this week, I'll get up each day and continue to send my boys off to school and head out to the job that I love.  And I trust God to lead me in finding that balance.
How about you?  Is there something you are uncertain in?  Will you trust God to carry you close to his heart and to gently lead you?
Pressing on together,
♥Becki