Despite 3 birthday parties (one for which I baked the cake), a church picnic lunch, back to school, that time of month, and possibly the most stressful/crazy week I've had at work so far, Jeff & I are on day 16 of our natural sugar/artificial sugar/wheat/dairy/etc. cleanse.
We've both lost over 10 pounds.  I'm back to 2.5 pounds above my lowest weight!  Soon, I'll be losing new weight again.  I'm at 153 and I   C A N N O T wait for the scale to read in the 140's.  I love that the Y has one of those scales where you move the weights on it, because I am so excited to only have to move the one to "100" even if the other one has to slide all the way to 49!  (If you are or have been considerably overweight, I'm sure you know what I mean!)
Anyway, by cleansing out our system, we are finding healthy options that we actually like without loading them up with extra sugar and calories and junk.
Spaghetti Squash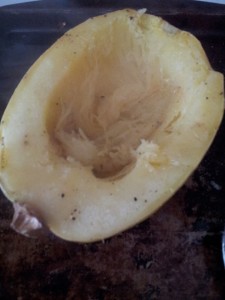 Jeff absolutely loved this!  I wonder if we would have loved it as much 3 weeks ago when our tastes were used to all the junk?
Anyway, I roasted a spaghetti squash, scraped it out, mixed it with a natural, sugar-free tomato sauce and lean ground turkey, and put it back into the skin.
This is a pretty common thing to do, but I never tried it before.  I think it will become a regular meal at our house.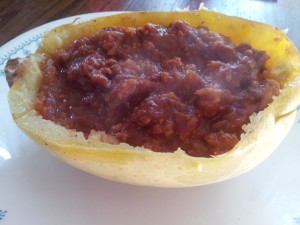 Lettuce wrapped burger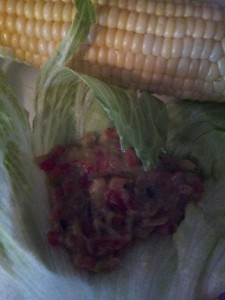 I made burgers (all natural, lean ground beef) and we used lettuce for the wrap instead of the yummy Martin's Potato Rolls that we love.
We then mixed Giant's natural salsa (in the refrigerator section) with guacamole.  For guac, you need to check, some have sugar or vinegar added.   No cheese or ketchup on the burger.
It was delicious this way.  I think I would continue eating burgers like this.
Spinach & tomato egg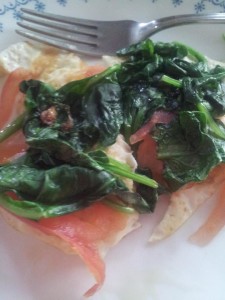 For breakfasts, I've done a lot of eggs.  I use coconut oil for cooking.  I've had all sorts of varieties: scrambled with peppers and onions, over hard with salsa (that I cooked on the pan) and cooked spinach, and over medium with tomato and spinach.  For this one, I cracked the egg on the pan, flipped it, put tomato and spinach on top, flipped it again and cooked the tomato & spinach.  (Salt and pepper are definitely required!)  I enjoy it, but I won't lie, I miss the toast with it.  Perhaps toast can be an occasional thing.  Also, oddly enough, I REALLY miss the ketchup. I am a ketchup on eggs kind of girl.
Chick-fil-A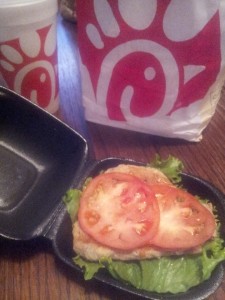 I work at Chick-fil-A, so I eat there every day that I work.  I knew I needed to find options.  I love the Grilled Chicken Sandwich.  The seasoning on it is so good.  Normally, I eat this with only half of the bun, no pickle, no tomato, and the honey roasted barbecue sauce.  Well, I needed to skip the bun entirely, so I order it now with double lettuce to still eat it as a sandwich.  I also needed to skip the sauce, so I added the tomato back on.  I never was a huge tomato fan, but now I eat them all the time!  Still no pickles.  It's really good, and most likely I'll continue this way, but add a fruit cup in.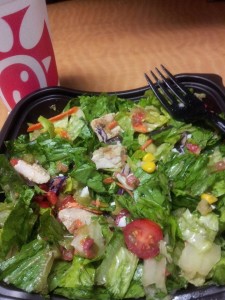 For a change, I also do the Cobb Salad.  I order it without the bacon and cheese.  I also ask for a grilled filet instead of the traditional coated nuggets that come with the salad.  I am unable to do salad dressing, so I bring a little olive oil mixed with a natural salsa and put it on top.  I'm satisfied and enjoy it … but I do miss the dressing.  I will probably add that in after the cleanse.  (I like Trader Joe's champagne pear vinaigrette.)
I know it's important to be able to eat out.  We also found that Subway will make any of their subs into a chopped salad, and they are really good.  I used oil for the dressing and put a little avocado on it for extra flavor.
Pumpkin Peanut Butter Rice Cakes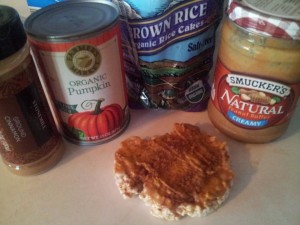 Snacks and dessert have been difficult.  I get tired of snacking on nuts and veggies.  At night, I love to have something sweet.  So I needed to find something.  This is the closest I've found.  I mix Natural Peanut Butter (no sugar added) with organic canned pumpkin and cinnamon.  I then spread it on a BROWN rice cake (brown rice only – they crumble a lot because there is nothing holding them together, so actually the peanut butter works as a glue for the cake.)  The last time I made it I whipped the peanut butter, pumpkin and cinnamon together with a mixer and it made it a nice consistency.  Each time I have it, I enjoy it more and more.  You definitely know there is no sugar in there, but it is a good option!  I've started using this for some breakfasts too.
Jeff and I keep talking about what day 22 will look like.  What changes will we keep?  What will we bring back fully or in moderation?  I know that we will bring fruit back because it doesn't seem too healthy to go without … and I definitely miss it!
I'm hoping to keep staying away from Coke Zero … I know it's horrible for me … but I do love it … and working at Chick-fil-A, I have easy access to it.  But these 2 weeks, I haven't missed it and so I probably shouldn't go back!
It's been difficult and easy all at the same time these past 2 weeks.  Difficult to figure out food options that we enjoy.  But easier than I thought to say no to the cakes and pizza and soda and ice cream …
Pressing on together,
♥Becki