but God …
If you read my posts last week, you could probably sense that my heart was heavy.  It was heavy with concern for my oldest child.  It was heavy with fear and anxiety about the rapist across the street and frustration for my lack of focus with eating, exercising, and bible reading.  I was also a little overwhelmed with some things at work and just the normal stresses of life.  My heart was heavy.  Through my blog posts and my prayer times, I cried out to God.  I cried out for wisdom, for peace, for my faithfulness, for my repentence.
And sometimes when you cry out, you immediately feel better.  But through the week, I wasn't feeling better … until Thursday morning.
The boys had all left for school and I was sitting down at the table with my coffee and breakfast before heading out to work.  I turned on my Bible app to the verse of the day.  All week, I had been reading it to my oldest before he went to school, but this day in the morning rush, I forgot.  Perhaps I forgot because I needed to read it alone.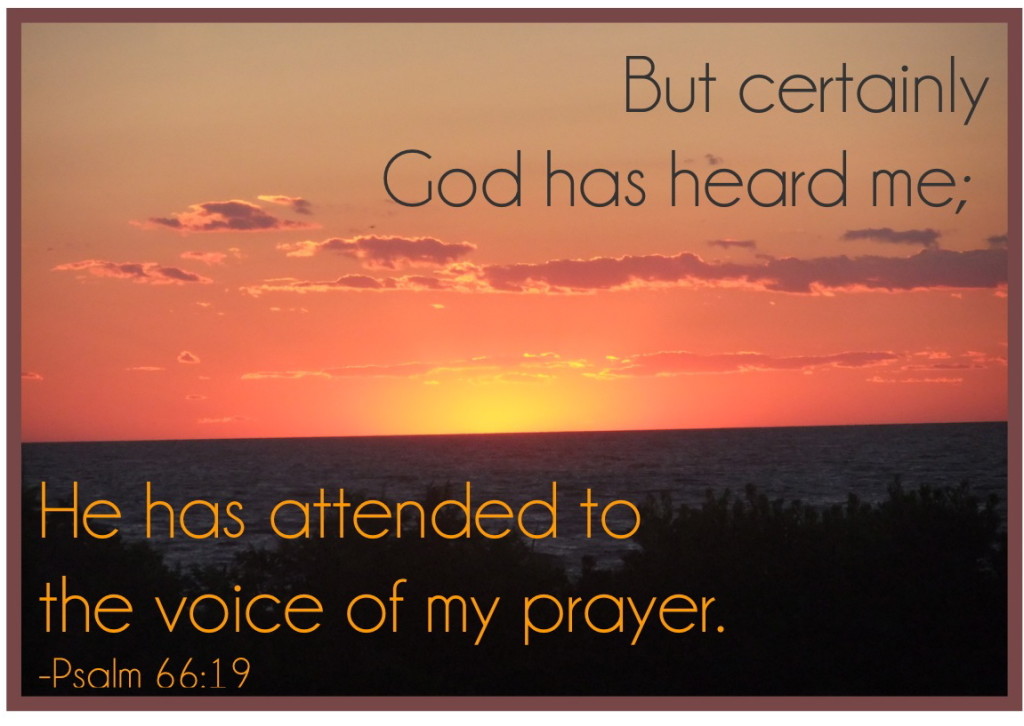 "But certainly, God has heard me; He has attended to the voice of my prayer." (Psalm 66:19)
I read the words and then the flood came.  The flood of tears as I heard God telling me he heard every cry, concern, worry, anxiety, nervousness, stress, and confession that I had cast upon him that week.  The flood of peace as I realized he not only heard them, but he had "attended to" them.  I felt as if God was sitting at the table with me, taking my hand, looking me in the eye and telling me, "I hear you, and I got this."  And all I could do was fall into his arms and trust him as the tension and burdens lifted away.
I was a wreck,
but God …
heard me, faithfully attended to my cries, lovingly reached out to me, and restored me.
And I suppose that is a nice, feel good story for me,
but God …
has put it on my heart, from that very moment, that this is for you too.  (After all it is in the Bible.) That I was supposed to write about it because I am not the only one who needs to hear it.  I am not the only one who needs to hear that you may be hurting, confused, stressed, overwhelmed, anxious, scared, angry, feeling abandoned, feeling alone, hopeless …
but God …
has heard you, and has attended to the voice of your prayer.
Will you trust him?
Pressing on together,
♥Becki