Do you ever go into your sleeping children's rooms and linger while watching them sleep?
I know it's a common parental thing to do.  But to be honest, I rarely do it.  My oldest son has never been a good sleeper.  As a baby, when he'd finally fall asleep after an hour of rocking him, you never knew if he'd sleep for 15 minutes or 5 hours. (Rarely would it be longer than 5 hours!)  So once he was sleeping, there was no way I was going to go into the room and risk waking him!
Anyway, 12 years and 2 good sleepers later and I still don't watch them sleep.  But the other night I did.  They looked so peaceful.  I remembered our night-time prayers, thanking God that we were a family and for our home.  And my thoughts strayed to a little boy named Jack.
Jack is a 5th grader in Eastern Europe.  His story is heart-breaking.  Many families have tried to adopt him, but for various reasons (click here to read the full story) it has always fallen through.  There is a family now that is in the process of adopting him, but is lacking the funds to do so.
I learned about Jack through some good friends of ours.  They were hoping to adopt him, but when she became pregnant they became ineligible.   But Jack was still heavy on their hearts.  So they have focused on fundraising specifically to finance Jack's adoption.  Being musically minded, the husband, Dave, decided to record a Christmas CD to sell.  Having several musically talented friends – including my husband, he recruited their help.  And what he put together is fantastic!  I would recommend it to you to add to your Christmas music collection even if it didn't help Jack.
But, bonus!  If you purchase the entire album, or even some of the songs, you help Jack get a family and a home!  No more living in an institution seeing the younger children getting adopted while he's left behind.  And hopefully someday soon, his new parents can linger in his new bedroom watching him sleep peacefully.  How amazing will that be for them and for him!
The album is entitled "Hopeful" and I am hopeful that this will be the last Christmas Jack spends without a family.  The group that came together to make the album called themselves "Pure Religion" from James 1:27 "Religion that God our Father accepts as pure and faultless is this: to look after orphans and widows in their distress and to keep oneself from being polluted by the world."  Check it out.  Buy the album.  Spread the word.  Share this post on Facebook or twitter or whatever.  Help Jack get a home!  Thank you.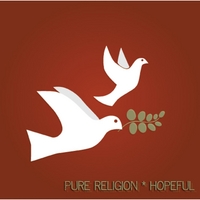 CD Baby – http://www.cdbaby.com/cd/purereligion
iTunes – http://tinyurl.com/catkjpa
Google play – http://tinyurl.com/cuj98kr
Enjoy it!  (By the way, Jeff sings Angels from the Realm of Glory, Ode to Joy, and Angels We Have Heard on High.)
Pressing on Together,
♥Becki
↓↓Don't forget to hit the share button below to get the word out↓↓