We've been in our home for almost 7+ years and we are outgrowing it.  Things are breaking.  Trees need to be trimmed.  And instead of loving my home like I used to, I find myself seeing everything wrong with it.  So, in an effort to remind myself what I like about it, I've created a top 10 list.  This is mostly therapeutic for me, so if you don't feel like reading, I get it… but perhaps if you find yourself complaining about your home, you should do a top 10 list too…
Top 10 Things I Like About My House
10.  The roof – my husband, brother-in-law and a friend worked really hard tearing off our old roof and putting on a new one.  It was a hot, hot week 2 summers ago and Jeff carried all the roofing materials up and down the ladder.  I was so proud of my artistic husband stepping out of his comfort zone and being a handyman.   And now, on days like yesterday, when the rain is pouring down, I no longer worry that the roof will start leaking.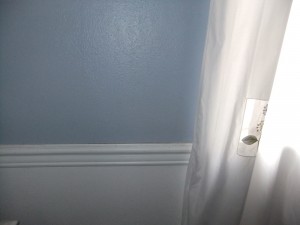 9.  The color of my bedroom walls – White on the bottom, white chair rail, light blue on the top, and an even paler blue ceiling.  It always feels peaceful, especially when the room is clean (which I'll admit is rare), but I love it… so much better than the mauve color it was when we moved in.
8.  The location – I love where we live.  We have a sidewalk lined street that I feel comfortable letting the kids play outside without me.  We can walk to the Kindergarten Center where my youngest goes to school, to the library, to a strip mall with an Acme, Hog Island (which has the best cheese steaks that I'm not eating right now), a True Value, a Chinese place, a nail salon, to the town park where there is a fair in May with carnival rides, to downtown where there are restaurants, ice cream places, parades, street festivals, and most importantly to friends' homes.  And if we get in the car, within an hour we can get to the city and the Phillies, within 2 hours we can get to the beach and the mountains.
7.  The attic – We have pull down stairs which lead to an open attic over the whole house – tons of storage with easy access!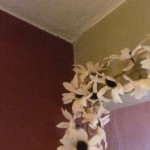 6.  The colors in the living room and hallway – When we moved in the walls were all white and so I decided to go bold.  The living room is a deep reddish-orange color and the hall is a beige-ish green.  It's a small space and everyone said painting it dark would make it seem smaller.  I don't think it does.  I'll admit it's difficult to make it feel bright and cheery with the lighting, but it always feels warm and comfy to me.
5.  The Kids' "Cubbies" – I wrote about this before (click here to go to it).  I love the system I came up with for my boys' coats, shoes, and back packs since my home has no foyer and a very small hall closet.  It also serves as an area to seasonally decorate.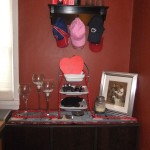 4.  The Porch – We don't have a basement, garage, dining room, or second family room and the porch serves as all of these.  It becomes a dumping ground for bikes, balls, shoes, winter stuff, beach stuff, toys… but it also serves as our dining area when we have too many guests for our kitchen.  The kids store most of their toys there and when it's warm enough will play out there.
3.  Our Backyard – Although it's not huge, it's a perfect size for the 4 boys (which includes my husband) to go out back and play soccer, baseball or football.  Or to set-up a slip and slide or small pool… the kids have spent many, many hours out there.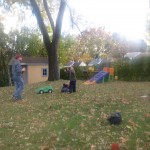 2.  The heat is working – Several weeks ago I wrote about when the heating guy was here. He was able to get the heat working again for less than $200.   Praise the Lord.  We will need to switch over the heating system which will cost mucho bucks!  But we can take our time, and research and do it wisely instead of doing it out of desperation.
1.  It's where my family is – It's where we snuggle up on the couch together to watch a movie, it's where we eat our family dinners, it's where my boys do their homework, it's where my husband comes home each day after work, it's where we've celebrated births, birthdays and many, many firsts, it's where we laugh, it's where we cry, it's where we feel safe and loved.  It's home.
♥Becki