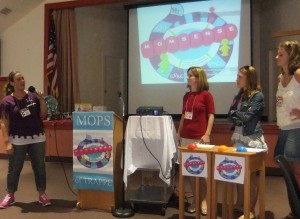 Wednesday morning I found myself at a microphone talking (and dancing) in front of a group of 64 women – my MOPS (Mothers of Preschoolers) group.  This was our kick-off meeting for the year and I loved every moment of it.  Although I came home, saddened by the thought that this would be my last first meeting.  In MOPS, you graduate when your youngest child goes off to first grade… so unless another baby Kerchner comes along (or adopted toddler Kerchner), this is my last year.
This group is amazing!  I can't imagine my life without the friendships, support, laughter, tears, hugs, crafts, discussions, speakers, play dates, moms nights out, book discussions, consignment sales, retreats, and I'll say it again – friendships that this group has brought to my life.  So as I was thinking about it being my last year, I remembered a newsletter article that I wrote for the last meeting 2 years ago.  It pretty much sums up how I feel about MOPS, so I thought I'd share it again:
I can't believe its May already (remember, I wrote this after our last meeting 2 years ago)!  Since I've been a stay at home mom, I've established a new definition of time: a day can be an eternity, but a year goes by in the blink of an eye.  True to form, that's how this year went as well.
When I started this year back in September (because as a mom, we all know that September, not January is when the new year begins) I knew there would be many changes for me since my middle child was starting kindergarten. (Now, my baby just started kindergarten, sniff, sniff.) I experienced a lot of expected milestones: learning to read, ride a bike and swim.  However, life also dropped on my lap many surprises.
I had no idea that I would become a home school mom of a child recently diagnosed with Asperger's.  I had no idea that I would have regular conversations with a neurologist and explain to babysitters what do if my newly epileptic son had a seizure.  I had no idea that I would have a mild panic attack realizing that I forgot to tell the dentist who was giving my son local anesthesia about the new medicine he was on.  Believe me, through that there were many days that I didn't know how I was going to get through the day.
But I have an amazing, loving God who knew I was going to have days like that.  He knew that I was going to need a friend to check up and see how the dentist visit went.  He knew that dinner was going to be the last thing that I wanted to think about after spending the day at CHOP and gave me a friend who loves to cook and offered to bring us dinners.  He knew that seizures were going to terrify me and gave me a friend who was already on that road with her son to help me through. 
 He knew I was going to feel like a lousy mom and He gave me friends to encourage me and cheer me on.  He knew when I needed to laugh and when I needed to cry and provided the people to do that with.  He knew I needed a purpose beyond my family and gave me a group of women to pray for and serve.  All of those needs He filled through you, the ladies of our MOPS group.  You all have exemplified to me this month's verse: "Bear one another's burdens, and thereby fulfill the law of Christ. So then, while we have opportunity, let us do good to all people, and especially to those who are of the household of the faith." Galatians 6:2,10) I thank you for that and I love you all.  
So you can see, why I'm a little saddened thinking that this is my last year.  The group is truly amazing enough, that it is tempting to get pregnant just to stay in the group 🙂  But I know that the amazing, loving God that gave me this group, has things planned for next year that I haven't even begun to imagine.  (Hopefully they still include me and a microphone, because as crazy as it sounds… I LOVE talking on mics!)  And I also know that the friendships that I made and will continue to make this year will continue to grow beyond the MOPS years.
♥Becki, fan of MOPS
P.S. if you are a mother of a child, newborn – kindergarten, check out www.MOPS.org to find a group near you!