I Will Wait 
by Jeff Kerchner  
Did you ever think we'd be here Watching everything disappear I don't know if you can hear me now I don't know if you can see somehow   But I'll wait and I'll stay As long as it will take, for you to know I've changed And I'll hear what you say The hurt will be replaced But from now until that day I will wait   Nothing more that I can say Actions speak louder anyway I wish you could see into my heart Then you would know for sure how loved you are   But I'll wait and I'll stay As long as it will take, for you to know I've changed And I'll hear what you say The hurt will be replaced But from now until that day I will wait  

I slipped away slowly, became something that I'm not

But I … I will never blame you, it was me who just forgot

  But I'll wait and I'll stay As long as it will take, for you to know I've changed And I'll hear what you say The hurt will be replaced But from now until that day   I will wait   and I will stay     As long as it will take, for you to know I've changed And I'll hear what you say The hurt will be replaced But from now until that day I will wait   The hurt will be replaced But from now until that day I will wait  
BEST
APOLOGY
EVER!!!!
My husband and I celebrated our 16th anniversary this summer.  We probably have a pretty typical marriage in that sometimes we're extremely romantic and lovey dovey, sometimes we're best friends, but sometimes we're just roommates.  And like most typical couples, we took each other and being married for granted.  We stopped pouring energy into our marriage.  And the strength of our marriage was tested.  Maybe one day I'll write more about our trials … but we're not quite ready for them to be published forever in the cyber world.
But I can say, that we had a choice to make.  Were we going to honor our vow and stay together, or were we going to walk away?  Could we forgive each other and love each other or would we only see each other's faults and failures?  Could we heal and get back to where we were before?
We chose to stay.
And I'm so glad we did.
And you know what, our marriage as a result was stronger and better than it ever had been.  When you are willing, healing can happen.
I am hearing more and more about marriages failing and falling apart.  I'm praying right now for your marriage, dear reader if you are married.  I'm praying that you would honor your vow.  I'm praying that you would delight in your spouse.  I'm praying that you would be their cheerleader and not their critic.  I'm praying that you would ask for forgiveness when needed and that you would offer forgiveness when needed.  (I'm praying the same for your spouse too!)  I'm praying for peace and patience and joy and love within your marriage.  I'm praying that you would wait and that you would stay!
Pressing on Together,
♥Becki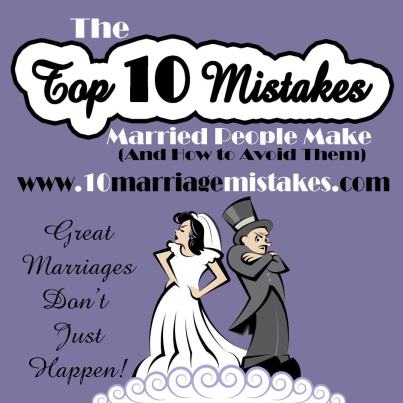 P.S. If you are local to me (Phoenixville, PA) then I wanted to let you know about a teaching series my church, Northpointe Community Church, is starting in October.
Top Ten Mistakes Married People Make
It should be good!  Click here for more information.
P.P.S (or is it P.S.S???) anyway, thank you Jeff for writing me such an amazing song and for waiting and for staying!  I love you.