In the beginning of the summer, my friend did something so incredibly brave, that I am still thinking about it with awe and respect.  To the rest of the world, it went unnoticed.  But not to me.  She didn't do it for me, but it has had a huge impact on me.
Are you curious?  When you hear brave, do you think of firemen running up the World Trade Center to rescue people?  When you hear brave, do you think of the many people in our military fighting for freedom?  When you hear brave, you probably wouldn't think of my friend.  But brave, she is.
Back in the beginning of the summer, I got a note from her.  She told me about an area in her life that she was struggling in.  More than struggling, she was really doing something that she knew was wrong, but she didn't want to stop.  What she was doing was in the moment making her feel good.  But still, it was wrong.
So why do I call her brave?  Because she reached out to me, she opened up to me, she trusted me with her secret.  How hard that must have been!  First of all, we are all very prideful and to admit that we are not perfect, and that we have a "dark secret" is extremely difficult.  No one wants to feel judged!  Secondly, she needed to trust me to keep it confidential.  And lastly, she knew that by telling me, I was not going to say things she wanted to hear.  I was not going to tell her that what she was doing was OK.  And frankly she didn't want to stop what she was doing.
So what did I do with it?  I thanked her for trusting me.  I encouraged her in walking away from what she was doing.  And I prayed for her.  Later, I followed up with her to see how things were going.  I'd love it if I could say that as soon as she shared her struggles with me, the desire to continue with it was gone.  That was not the case.  But her heart has been changing, and she has removed herself from the situation to prevent her from doing the things that she knew were wrong.  She had said that she had been avoiding prayer and most things that had to do with God because of the guilt that she felt.  But after telling me about it and knowing that I was praying for her, she found herself able return to God as well.
Last Sunday, I sat in church and thought of her as the pastor read from the book of James.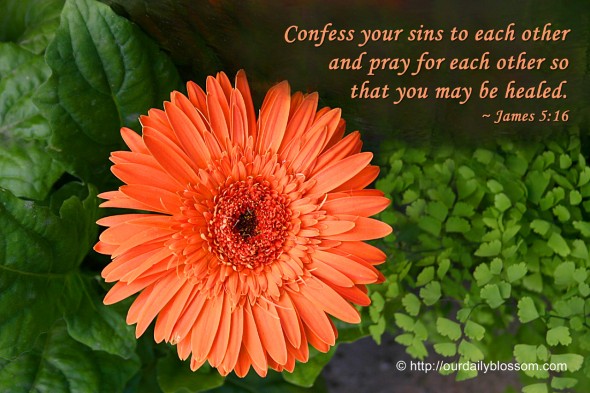 Photo posted by Hannah Mayes at ourdailyblossom.com
Therefore confess your sins to each other and pray for each other so that you may be healed. The prayer of a righteous man is powerful and effective. (James 5:16)
That was exactly what my friend did.  She confessed her sins to me.  It was hard, she probably didn't want to, but she did.  And you know what, she may not be fully "healed" yet from the desire of the sin, but she is in the healing process.  I didn't have the power to offer her "heavenly" forgiveness, but I could pray for her and direct her to the one who could.
If we confess our sins, he is faithful and just and will forgive us our sins and purify us from all unrighteousness. (1 John 1:9)
I've seen, in my own life and in the lives of those around me, how important confession is.  Sin (whether "big" or "small") can take a hold of us so swiftly and easily when we allow it to.  We like to keep it hidden, to keep it in the darkness, so that we can hold on to it, to keep on doing it.  Or maybe we don't want really want to continue in it, but we are so ashamed, that we hide it.  And when we hide it, it's much harder to overcome it.   Through confession, we are bringing the sin from the darkness into the light.  We are calling it what it is, sin.  We are allowing others to support us, and opening our hearts to God, to allow Him to work in us.  And healing begins.
My brothers, if one of you should wander from the truth and someone should bring him back, remember this: Whoever turns a sinner from the error of his way will save him from death and cover over a multitude of sins. (James 5: 19, 20)
Thank you, dear friend, for trusting me with your secret.  Thank you for being so brave.  Thank you for allowing me to be a part of your healing.  I continue to pray for you.
And I pray for me and you, dear readers, that if we have secret sin in our lives, that we would be brave like my friend and able to confess it both to a friend, and to God.  To the friend for support, encouragement, and accountability.  To God for forgiveness and healing.
Pressing on Together,
♥Becki