I had another "Mother of the Year" moment last night…
To understand the tone of that last statement, you need to read it dripping with sarcasm. So if you read it thinking that I was getting ready to brag about my awesomeness, go back and reread it with the tone intended… go ahead…
I had another "Mother of the Year" moment last night…
OK, now that we're on the same page, let me set up the image of my stellar mothering.  Last night, we were at the local park from 5:30-10:30.  We arrived to watch my husband play softball for our church team.  Knowing that we would be there all night, I very diligently packed dinner, snacks, and water.  I set the boys up to eat their dinner and watch their dad, while I went for a run.  So far, so good.
I finished up my run, and returned to my boys.  We watched the game, chatted with our friends, the boys played.  It was nice.  I was still all sweaty and gross from running, so I grabbed my change of clothes and headed for the bathroom to change.  Still, so far, so good.
The bathroom was like a sauna.  I washed off in the sink, and then I decided to use the handicapped stall for more room.  On a side note, I have never in the entire 39 years of my life seen a person in a wheel chair in a bathroom, so I didn't feel bad using that stall despite the fact that there were 4 regular stalls open.  Of course when I came out, freshly changed, there waiting for me to finish was a women in a wheel chair.  Of course!  I apologized for using that stall, and they didn't seem bothered… so still, so far, so good.
The game finished up and we simply hung out and relaxed waiting for it to get dark.  Our church was sponsoring a movie in the park night.  We set up our beach chairs and our sleeping bag.  I got the stuffed Pikachus and bear out of the van for snuggling with.  I got the bag of popcorn out.  We were all set to watch a movie under the stars.  It was a beautiful night.  The movie screen is this inflatable thing that is absolutely huge, bigger than some movie theater screens.  The sound system is loud enough that the crying babies didn't bother you.  We laughed as Po on Kung Fu Panda 2 kicked some peacock butt.  It was a great time, and still, so far, so good.
The movie ended.  We packed up our stuff.  Jeff grabbed the 4 chairs and the cooler bag and headed back to the van.  I rolled up the sleeping bag and walked back to the van with my youngest son.  I had assumed my older 2 had walked back with Jeff.  At this point, it's 10:30, so it's pretty dark out.  Can you guess where I'm going with this?
I get to the van and we are loading everything into the back.  And then, I notice my 8-year-old walking over to us.  He's crying.  I go to him, hug him and ask him what's wrong.  I can feel his little heart beating like crazy.  And he can't seem to stop crying.  Our pastor's wife walks over and sweetly says, "Does this little boy belong to you?"
And then I understood… he wasn't with us.  He couldn't find us.  He was "lost" in the dark, surrounded by a ton of people but not seeing his family anywhere.  He was terrified.  And we were at the van, loading up, not realizing he wasn't with us.  I assumed he had walked with Jeff.  Jeff assumed he had walked with me.  He was lost, and we didn't know it.
Thankfully our pastor's wife noticed him, and thankfully she knew who he was.  Thankfully everything worked out fine.  But despite the outcome, it was still terrifying for my little boy.
On the way home, we talked about our strategies for what to do if we get lost.  I asked what he would have done if Mrs. Johnson didn't notice him.
"Go to the van." "What if you didn't remember where the van was?" "Ask someone for help." "Who would you ask?" "A mother with children."  
As it turns out, he remembered everything we've taught him, but in his panic, all he could do was look around in the dark and cry.
Oh how my heart aches just typing this and thinking about how scared he was.  Thank you, God, for protecting my son and watching out for him, when I wasn't.  Thank you, God, for being the perfect parent, when I'm not.
One of the things I usually do when we go to an amusement park, the boardwalk or some other crowded place where it would be easy to get separated, is to write my cell phone number on a piece of paper and make sure each of the boys has it in their pocket.  "Please call my mom, Becki at 555.555.5555"  That way if they are panicked, they don't need to remember my phone number, or even need to say anything.  They are supposed to find a mom, with children and give her the paper.
Last year, I upgraded to bracelets.  I used a sharpie and wrote on those bracelets that they use for fairs and such, but you could also use any of those rubber bracelets that are so popular.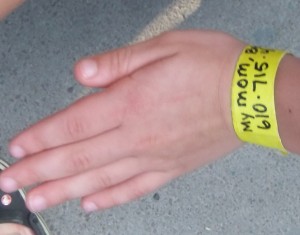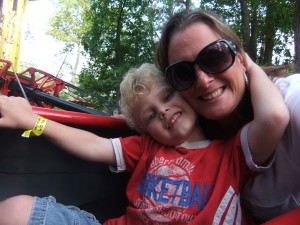 Hopefully last night was just a fluke, and they'll never need to use those bracelets.  But, last night reminded me that even though they are getting older, I definitely still need to be vigilant about making sure I know where they are.
Pressing on with you,
♥Becki, imperfect mother, covered by God's grace