Money for us is extremely tight.  I don't say that for pity, we've chosen for me to stay home with the kids despite the fact that my husband is a teacher.  (Which by the way considering how important and difficult the job is, is extremely low paying – but that's a soapbox for another day.)  But anyway, we need new gutters and a new front door and exterior painting and new carpeting and our dryer stopped working.  I'd also love to redo our extremely outdated kitchen and give our bathroom a good overhaul, heck, I'd love to add another bathroom.  And oh, how I longingly linger in the comforter aisles because I'd really like to get a new one for myself and all my boys and new window treatments and new furniture and oh how I want, want, want.
I've always said that if money wasn't a concern, the house is where I'd spend it.  Sure I'd get new clothes and jewelry and shoes and makeup and I'd take vacations.  But the home is where I'd constantly be finding something else I want.  I could spend hours, well probably even days, in Home Goods dreaming up new ways to decorate.  I could waste my life away staring at pictures on Pintrest, and planning my next project.
But then, I wonder what does that say about my heart?  It's one thing desiring to have a nice, safe, energy-efficient haven to call home.  But really,  how would having the best of everything, perfectly decorated make me happier?  Wouldn't I just find more that I want?
Last year, my church read a book called Radical by David Platt.  There was a really challenging section about our quality of life, "How Much Is Enough," and how much money we waste on our homes especially when that money can be used for so much around the world.  I have to say that I read it with almost a "holier than thou" type attitude knowing that we live in a 1000 sq.ft. home and that almost all of our furniture are hand me downs.  I thought that section didn't apply to me.  But then, ever so gently, God speaks to my heart.   I am not living in this home because I desire to live below my means so that I have more to share with others.  I live here because this is all we can afford.  There's nothing "holy" about that because in fact if we had more, I'd spend it on our home, not on others.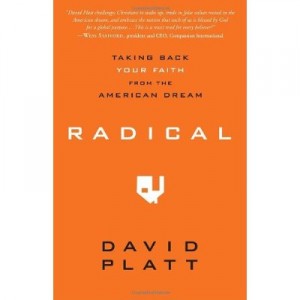 "But then I realize there is never going to be a day when I stand before God and He looks at me and says, 'I wish you would have kept more for yourself.' I'm confident that God will take care of me." 
― David Platt, Radical: Taking Back Your Faith from the American Dream
So once again, I'm reminded of my imperfections.  But God is so merciful, and he does this so gently, not because He desires for me to dwell in condemnation and shame, but because He desires to grow me into a woman who honors Him with my whole heart.  And so I press on…
"Not that I already obtained all this, or have already been made perfect, but I press on to take hold of that for which Christ Jesus took hold of me." (Philippians 3:12)
Sometimes being imperfect can be so tiring… oh how I wish I've "already obtained all this"…  But I guess that's what eternity is for!  So friend, if you've read this, or any of my posts, and felt conviction stirring on your own heart, believe me it is not meant to condemn or shame you, but rather to encourage you to embrace your imperfections without settling for them.  Let's Press On Together!
♥Becki, imperfect woman