It's not as much fun getting the mail now that my mailbox is no longer full of Christmas cards.
I hear lots of people saying how they aren't bothering sending cards anymore… but I'll admit, I love receiving them.  I love looking at the family pictures and wondering about when they were taken.  I love reading the Christmas letters – even if they are full of bragging about how "perfect" their family is.  🙂  I love the artwork of the traditional cards.  (Especially the glittery ones.)  And of course the handmade ones impress me.  But when you pack away Christmas, what do you do with all the cards?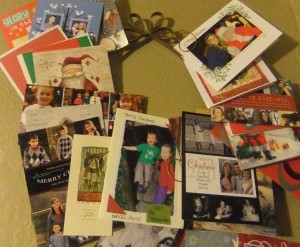 I'll be honest, last year I just threw them away – my refrigerator was already way too cluttered…  But this year, knowing the time and money people put into picking out their cards, signing their cards, addressing their cards, and mailing their cards, I just couldn't do that again.  Also since I'm trying to be more intentional about relationships I knew I needed to use them in some way.
So here's what I came up with.  I told the boys that every night at dinner we were going to take one card and talk about that person or family (who they are, how we know them, etc.) and then whoever prays for dinner will also pray for that family.  So last night my oldest prayed for my friend, Karen, and her family that "They would all be safe."  So sweet… I'm hoping that I'll follow through on this and we make it through all the cards.  (Traditionally my follow-through is not as good as my intentions.)
Even with that idea though, I had the dilemma of what to do with the cards while we are praying for everyone.  So I came up with this idea:  I had an empty 8×8 scrapbook sitting around.  (I asked for it for my birthday 2 years ago because I was using Smilebox and I had plans of printing out 8×8 scrapbook pages for it… but, well, it's still empty.)
So I filled it with the cards.  Each dinner, we'll pull out the scrapbook and pray for the person or family on the next card.  But even if we weren't doing that, I actually enjoy flipping through it now and really appreciate the cards a lot more.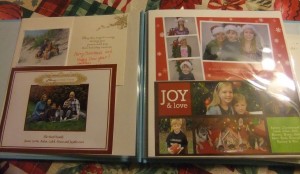 Of course the question is whether I will do this every year, because after a while what do you do with numerous books filled with Christmas cards?  But I guess that decision is for another day…
♥Becki
What do you do with your Christmas cards?