I'll admit, there are many times that I'm sitting at church thinking about what we are going to have for lunch.  "Should we go out?  Should we go home to eat?  What do we have?  Do we have enough eggs to make eggs or pancakes?  I think we have hot dogs, maybe we could do that.  No, let's just go out.  Where should we go?  I wonder what we should have for dinner.  If we go out for lunch, we definitely need to eat dinner at home.  Maybe we could have the hot dogs for dinner."  Of course this internal conversation is going on while the pastor is teaching a lesson from the Bible.  A lesson that he has prayed about.  A lesson that he spent time preparing.  A lesson that God made sure I got out of bed, my family dressed, and at church to hear.  And my mind is on food.
"My food," said Jesus,"is to do the will of Him who sent me to finish His work."  -John 4:34
When Jesus was talking to the Samaritan woman at the well, the one who had several husbands and was currently with a man who was not her husband, the disciples came up to them.  They couldn't understand why Jesus would be talking to this Samaritan (Samaritan's were half-breed Jews who were considered unworthy and repulsive to the Jews) woman (at the time, rabbis didn't talk to women without their husbands there).  But they didn't ask Jesus why He was talking to her.  Instead they tried to change the subject.  "Rabbi, eat something." His reply was, "My food is to do the will of Him who sent me to finish His work."  My translation, "How can I even think of food when people need me, when people need to know God?"
Jesus was saying that He got his nourishment from his service.  Food wasn't even on his mind.  The woman by the way became a follower of Jesus, she went and told others about Jesus.  "Many of the Samaritans believed in Him because of the woman's testimony."  To read the whole account in John 4, click here.
As someone whose mind always seems to be on food, this verse really stuck out to me.  Whether I am eating "correctly" or not, if my mind is more on food than it is on God and the work God has for me, then there is a problem.  So what do I do to get my mind off of food and onto God?  The only way I know how is to make sure I'm spending time in the Bible and praying.  And when my mind starts drifting to food when it shouldn't, I need to pray and ask God to take control of my thoughts.  I need to be purposeful in focusing my thoughts on God and not on food.  Obviously, I have not yet achieved this, I'm still pressing on in the process.  I can't wait for the day, that I can write about this in a past tense instead of a present one!
I also am more and more realizing that while I'm training myself to focus my thoughts on God, I need to be training my boys as well.  Just as I need more than a Sunday morning sermon to grow in my relationship with Jesus, my boys do too.  So I can't expect their Sunday school class to be enough to foster that growth.  Over the summer, we read as a family a great book: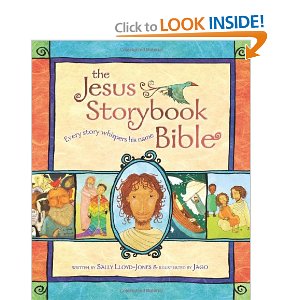 Basically it was a book with all the "popular" stories from the Bible from Genesis through Revelation.  Every story though ended pointing back to Jesus.  As an adult, I enjoyed it and thought it did a really good job of tying the Bible together.  My boys loved the stories, the pictures and talking about it.
Currently, we are doing daily devotions from this book:
These are great, because they are quick, written for children, have "fill in the blank" prayers and cover a variety of topics.  Even though it's for younger kids, my 5, 7, and almost 11-year olds enjoy it.  My 7-year-old loves to then take the suggested Bible verse,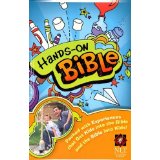 look it up in his Bible and read it to us.  I love that he's learning how to find books, chapters, and verses in the Bible, that he's reading, and that he's reading God's word.  He loves the Bible that he uses, Hands-On Bible.
It's the full Bible with a lot of fun, practical applications to make the Bible real and accessible for children.  And I think that's important, after all, Jesus did say:
"Let the little children come to me, and do not hinder them, for the kingdom of heaven belongs to such as these." -Matthew 19:14
Which, by the way is a Bible verse that I memorized through Steve Green's children's Bible verse memory songs: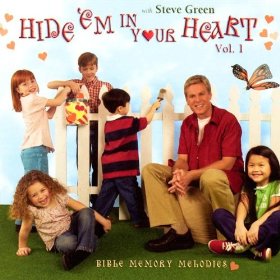 Click on the picture of the CD to go to Amazon to preview it.
So as I'm learning to be in God's word everyday and make my food the same as Jesus' food, to do the will of God, I am trying to be purposeful in feeding my children that same food.  What are you feeding your children?
♥Becki
P.S. Sorry I didn't post on Monday or Tuesday.  Monday was a busy, busy day and Tuesday was a sick day – I actually took 3 naps and then was still able to sleep through the night!  I must have been really run down.  So today's post actually was a combination of Mothering Monday, Training Tuesday, and Wednesday's Wisdom from the Word.
Thanks for reading!  And if you think any of your friends would enjoy reading, feel free to click on the share buttons below!  Have a great day feasting on God's food.