After years of yo-yo dieting and on again / off again exercising, I've learned that the hardest weight to lose, mentally, is the weight you've already lost and the hardest training, mentally, is getting back to a point you were already at.  So you'd think that I would never slack off, but this summer I definitely did.  And returning to the running but not being able to do what I was doing in the beginning of the summer is frustrating.  And knowing that the next 7 pounds that I lose will be weight that I lost in the spring but gained back is maddening… but I press on.  Because if I don't now, next week/month/year, it will be even harder.
So this past week, I started up with the couch to 5K training program to train for the H.O.P.E. 5K in November.  I'm trying to retrain in a way that I will increase my speed.  Instead of doing walking/running, I'm doing slow jog/faster jog.  I got new cute pink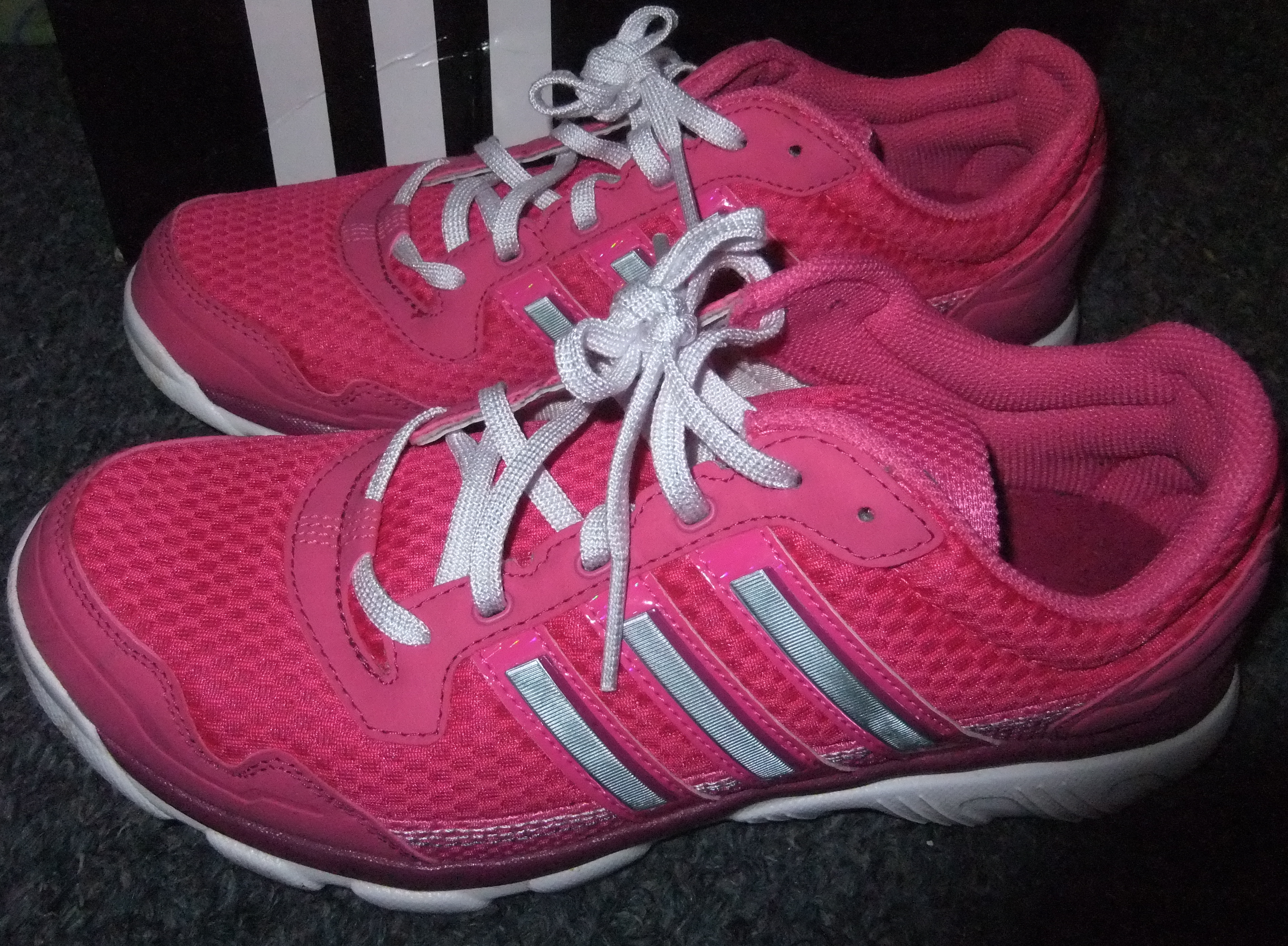 sneakers which helped ease the frustration of decreased ability and hit the pavement.  As I was running, I thought about some of the things I learned being a new runner.  I figured I'd share them in case you decided to accept my challenge to train to run your first 5K too.  Many of these are women specific and things no one told me about so I thought it was just me… but after asking around, turns out it's not just me.
Good shoes are important – but so are good socks.  Seriously, one day I put on a pair of Jeff's Under Armor socks and I can't even explain why, but my feet felt so much better.  I finally invested in some good pairs of my own.  (Go to a sporting good store for some.)
The pounding motion of running is hard on the bladder (especially on someone who has birthed 3 babies).  Wearing a pad for the first several weeks of your training is helpful for leaks while running.  When your run is over, sometimes getting to a bathroom quickly is very important!
Drinking water before the run is just as important as drinking after.  When I forget to drink ahead of time, my run is a lot harder.  The tricky part is figuring out how much is enough to hydrate you without causing you to have to "go" while running.  (See point above)
Sweating is not limited to your face and neck.  I never knew I could sweat at my "lady area".  If you don't shower right away, or wear a pad that you change, the wetness can cause itching.  (Sorry Jeff, if you're reading this… I know you'd rather not think of your wife that way…)
Vanity has no place in running – if you are going to run hard, you will sweat, get red faced, and not have perfect hair.  The most comfortable running clothes may not be the most flattering.  Modesty on the other hand is still important.  When you have a figure like mine, most people do not want to see you running in just your sports bra even though that's what you want to do.  (This however is OK when you are using your neighbor's treadmill in her basement.)
The difference between walking and running for me is that I can feel my bottom "jiggle" when I run.  I've talked to "small bottom" runner girls and they say the same thing… so I figure it must be working that area out!
Do not be a closet runner.  Sign up for a 5K and tell your friends.  Better yet, sign up with your friends for a 5K or most likely you'll quit.
Don't compare yourself to anyone else.  Run your own run.
♥  Becki, imperfect runner
P.S. If you are interested in running the 5K that I talked about in last Tuesday's post for Dawn Leach, here's the info:   5k for HOPE application