I have a group of Penn State girlfriends that would get together for dinner on the third Monday of every month.  It was a great way to stay connected and also to get a night out.  We've gone through pregnancies, miscarriages, births, new homes, job changes, sending our kids off to school, homeschooling, and unfortunately moves.  One of the girls (the one who got us organized) moved to Michigan.  Another moved to DC and then this past month to Cameroon, Africa!  So for the past couple of years, our once a month dinners became twice a year or so.
Anyway, when we were meeting every month, we would take turns deciding where to
meet.  One month, one of the girls, Tricia, decided to meet at one of those ceramic studios.  She reserved us a room, ordered pizza and brought drinks.  We arrived and I was overwhelmed at the choices of what to make.  One of the girls decided to make a "Special" plate.  Being someone who is not especially creative when it comes to crafts, but good at copying, I chose to do the same thing… in fact most of us did.  So we painted and talked and ate and laughed and painted some more.
Well now, 6 years later, every time I use the plate, I think of my friends and smile.  And I do use the plate a lot.  Here's what I use it for:
Birthdays:  The person of honor gets their birthday dinner served on the plate.  (Or sometimes, they get their round layer cake placed on the plate.)
Guests:  Whenever we have company for dinner, I try to remember to set it at the guest's spot.
Something special at school: A school concert, good job on a test, getting a "Gotcha" Award (being caught doing something good)…
First day of school: This year, I couldn't decide who should get it, so I put 4 cupcakes on it – 1 for each of my boys, including my husband who is a teacher.
Just because: I randomly give it out just because that person is special to me because they are my child or my husband 🙂 and because they are special to God.
Being that I have all boys and they are likely to not notice such things, I always point out when the "special red plate" is being used and why.  And I usually notice the honored person sit a little taller and smile a little bigger.  My hope is that my boys (including my husband) and my guests will know that I really do mean it, that they are special to me.  And I'd love it when my boys are older, if they'd look back at their childhood and remember the "special red plate"… and maybe make sure they had one for their own children.
♥Becki, imperfect artist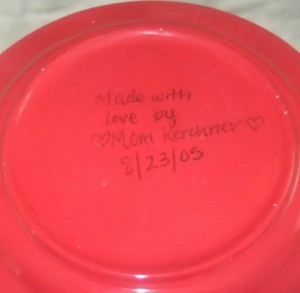 P.S. If you don't have a "special red plate" you should find a ceramic studio, get a group of friends together and go make one.  (If you're local, I'll come too… I'm thinking I need a dessert size plate as well…) Or you can google "special red plate" and lots of places to buy one will pop up… although I think a home-made one is a tad more special 🙂