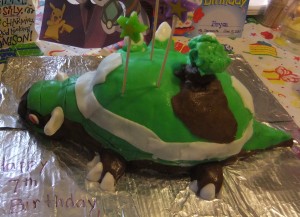 I'm a mom of 3 boys and pokemon is big in our house right now.  So when I asked my middle child what type of birthday cake and birthday party he wanted, I was not surprised that he answered Pokemon.  More specifically he wanted a torterra pokemon birthday cake for his birthday dinner and pokeball cupcakes for his friend party.  So I got to work.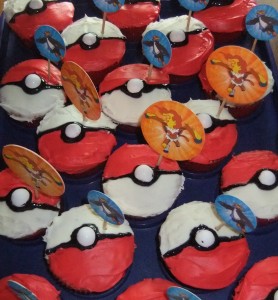 We sent out invitations.  We went to Party City for favors.  I searched the internet for ideas and baked and made fondant and colored icing.  (Did you know if you start with strawberry icing and pour in an entire bottle of red food coloring you still only end up with a deep pink icing and not red?)  We bought some masks and made some others.  I created a pokemon obstacle course starting with a giant inflatable ball that they got inside.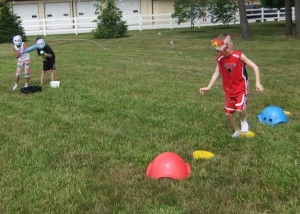 I like to go all out for birthdays.  (Not financially but effort.)  Why?  Because birthdays are a chance to celebrate our children.  I'm not celebrating any accomplishments – its not about what they've done.  I celebrate because of who they are – my child.  I try not to use the "you better be good or you're not getting anything for your birthday" or "you better be good or I'm canceling your party" lines.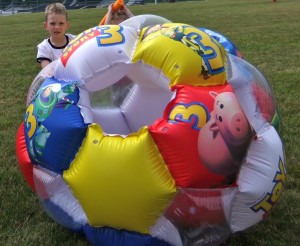 The gifts and the party are not earned.  Gifts shouldn't be earned or they are wages or bribes not gifts.  (Since this blog is about being honest through my imperfection, I will admit that despite my intentions, in my frustrations I have threatened to cancel parties or return gifts.  But I'm working on not doing it!) All my boys have to do to have the party and the gifts is show up, open them up and accept them.
I hope you like parties, because God's got a big one planned for when we go to Heaven.  And its not because of anything we've done – its because of who we are.  His child.  All we have to do is accept his invitation (Jesus as our savior) and show up.  For it is by grace you have been saved, through faith—and this is not from yourselves, it is the gift of God— not by works, so that no one can boast. (Ephesians 2:8-9)